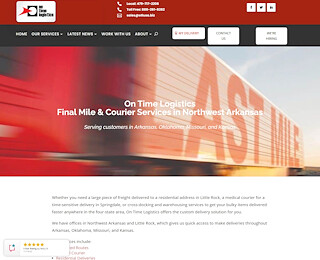 Do you need the services of a company that offers reliable delivery in Fayetteville, AR? You'll appreciate working with On Time Logistics. They offer full-service delivery and courier service throughout NW Arkansas, Tulsa, Little Rock and Fayetteville.
Why source your courier needs? It's simple. A logistics company can provide you with the highest level of delivery- that's what they do. OTL has invested in all the latest technology, driver training and certification, vehicles and warehouse space, so you don't have to. They serve a variety of clients who require tracking and inventory control technology. All drivers are trained, certified and highly qualified to handle your most sensitive or hazardous items.
OTL's fleet includes a variety of vehicles to provide their customers with any delivery service they require, no matter the size. With thousands of feet of warehouse space, they are able to serve the needs of their clientele with great efficiency. Their facility is conveniently and centrally located if you are looking for SSL space to reduce your shipping costs. On Time Logistics can save you big on labor costs!
Why hire and train new logistics employees when OTL has done all the legwork and can provide you with affordable, reliable service? Drivers undergo a comprehensive background check as well as thorough reference screening to ensure the highest level of professionalism and reliability. Your delivery in Fayetteville, AR or surrounding area is of the utmost importance to OTL.
If you require help managing your product, you can rest easy knowing that On Time Logistics warehouse employees are trained in the latest inventory-tracking technology to better serve your needs. The OTL warehouse is TSA certified, so you'll know your inventory is secure. You're guaranteed faster shipping and greater customer satisfaction when you allow OTL to handle your logistics needs. They can provide custom packaging for your products to reduce the risk of damage to sensitive items. Count on OTL's delivery drivers to maintain professionalism and courtesy.
On Time Logistics is the professional delivery service in Fayetteville, AR your business needs in order to grow. They can manage all of your courier, delivery and distribution needs, from same day to Hot Shot, medical delivery, messenger service, out of town and local deliveries.
Customers love that On Time Logistics offers same day deliveries every day of the year, any time of the day or night. Their inclusive 24/7 service is what brings clients back to OTL time and time again. Their easy online ordering system allows web order with 24 hour access for the greatest convenience possible. Online accounting includes payment history, aging and invoices. Choose email confirmations that meet your needs, with notifications on pick-up and drop-off and up to 4 emails per delivery
You'll love On Time Logistics' delivery options throughout Fayetteville, AR and beyond. Their direct 90 minute delivery service in the immediate downtown areas of Fayetteville, Springdale, Rogers and Bentonville is a client favorite.
For more information about On Time Logistics and their delivery solutions, please call 479-316-3302.
On Time Logistics – Fayetteville and Little Rock Arkansas
(479)717-2206
1710A Powell Street
Springdale AR 72764 US