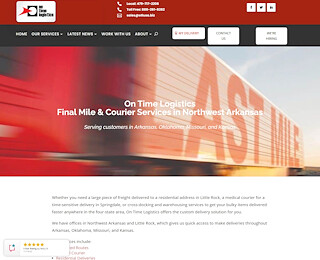 Operating a small company requires a lot more than hiring workers and ensuring everybody is doing their jobs effectively and professionally. You will find a great deal of details which go on behind the scenes which a lot of individuals do not recognize happens. A seemingly simple choice a small enterprise must make is exactly how to manage deliveries. Should somebody from your staff spend time away from the business to make deliveries or better yet, should a courier service be used? More business owners are discovering the cost saving effectiveness of utilizing an experienced courier service for their delivery requirements. On Time Logistics provides timely, secure and affordable delivery in Little Rock for several small businesses within the area.
On Time Logistics is known for providing the fastest, safest and most effective professional delivery in Little Rock, and throughout the entire region. When your business is relying on a package or documents that must be delivered within the same day, you can count on us to take care of the job in the most experienced way possible. We offer 24/7 delivery services in Arkansas, Missouri, Oklahoma and Kansas, which is why we have been the most trusted courier service available anywhere. Our contemporary, state-of-the-art warehouse will guarantee that all parcels entrusted with us remain damage free and well protected. We also hire only the most professional drivers, ensuring that your deliveries are always to your satisfaction.
One of the leading advantages enjoyed by small businesses which use a courier service is actually the delivery velocity. In terms of utilizing conventional mail, your own fleet of cars, or even a national business, nothing is able to match the pace of a local courier service. Your items won't ever change hands while in the delivery procedure, increasing not merely speed, but security, too. Additionally, it will not remain for days on end at a warehouse waiting to be sent out. As an outstanding courier service, we are known for our reliability and dependability, which is why more companies have the highest expectations of our service.
With regards to sending a parcel or documents, courier services are actually the least expensive choice on the market nowadays. Utilizing a courier service provides small businesses the least expensive option with regards to delivery items and paperwork. The price to get a fleet of delivery vehicles for your business could be monumental. Not merely do you have to buy the vehicles, you'd also have to purchase expensive commercial insurance, as well as hire delivery drivers. That obviously doesn't make any sense, especially for a small business, such as your own.
If you would like some additional information regarding the benefits of professional delivery in Little Rock, On Time Logistics would like to invite you to visit our website. At otlusa.biz, you can find out more about how our company can benefit yours. On our home page, you can leave your contact information, or you can also call us at 888.261.8282, and speak with one of our friendly customer service reps.
On Time Logistics – Fayetteville and Little Rock Arkansas
(479)717-2206
7123 Interstate 30
Little Rock AR 72209 US